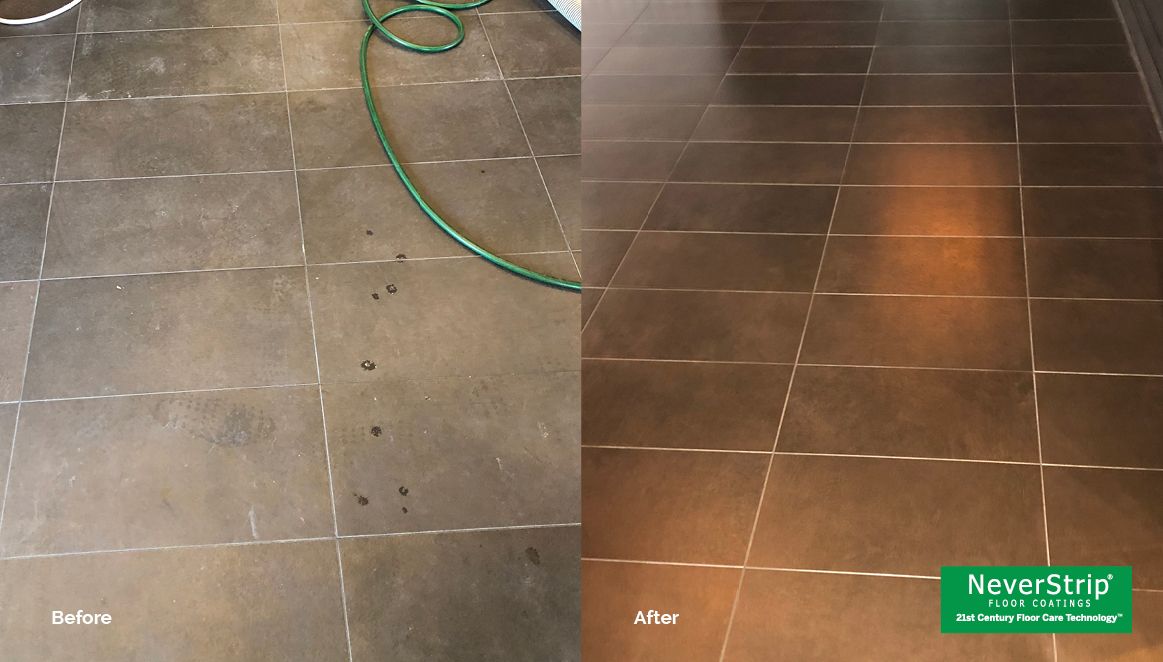 Removing Epoxy Grout Haze with NeverStrip Tile Seal
Removing Epoxy Grout Haze with NeverStrip Tile Seal
An exclusive Chicago-area Cigar Store installed an expensive, imported porcelain, which looks like leather just as Covid hit earlier in 2020.
Epoxy grout was used. Removing the epoxy grout haze on the porcelain proved to be a major issue and concern.
Immediately after installation, a paper covering was applied over the entire floor to protect it from construction traffic. Because of Covid, the paper was left on the floor for many months.
NeverStrip Floor Coating's floor care maintenance contractor was asked to clean the porcelain. It was then discovered that there was a white-ish epoxy grout haze on the porcelain across the entire floor. Needless to say, on the "leather looking" brown porcelain the white-ish haze was a significant issue. Removing epoxy grout haze became a huge concern. However, with NeverStrip Tile Seal, this tile and grout sealer did the trick.
No matter what was done, no one could totally remove the white-ish haze. It was a significant problem, which had the tile installer and cigar store owner greatly concerned and worried.
NeverStrip's customer then applied NeverStrip Tile Seal to a small area of the floor. Much to the amazement of all, Tile Seal eliminated the appearance of the white-ish haze on the porcelain. This tile sealer was able to refresh the floors, making them appear as good as new.
Tile Seal is part of NeverStrip Floor Coatings' Micron Family of floor care sealers. It is inorganic based and is used on ceramic, porcelain, quarry tile and brick.
Benefits of this tile sealer include:
• Enhancing a floor's appearance and colors
• Making it easier to clean the floor, especially textured flooring
• Wonderful traction
Three applications of Tile Seal were applied at 6,000 sq. feet per gallon per coat.
The results were astonishing! The leather looking porcelain's appearance was enriched. The white-ish haze disappeared across the entire floor upon completion of the Tile Seal application. Our floor sealer made it easy!
The store owner was ecstatic!!