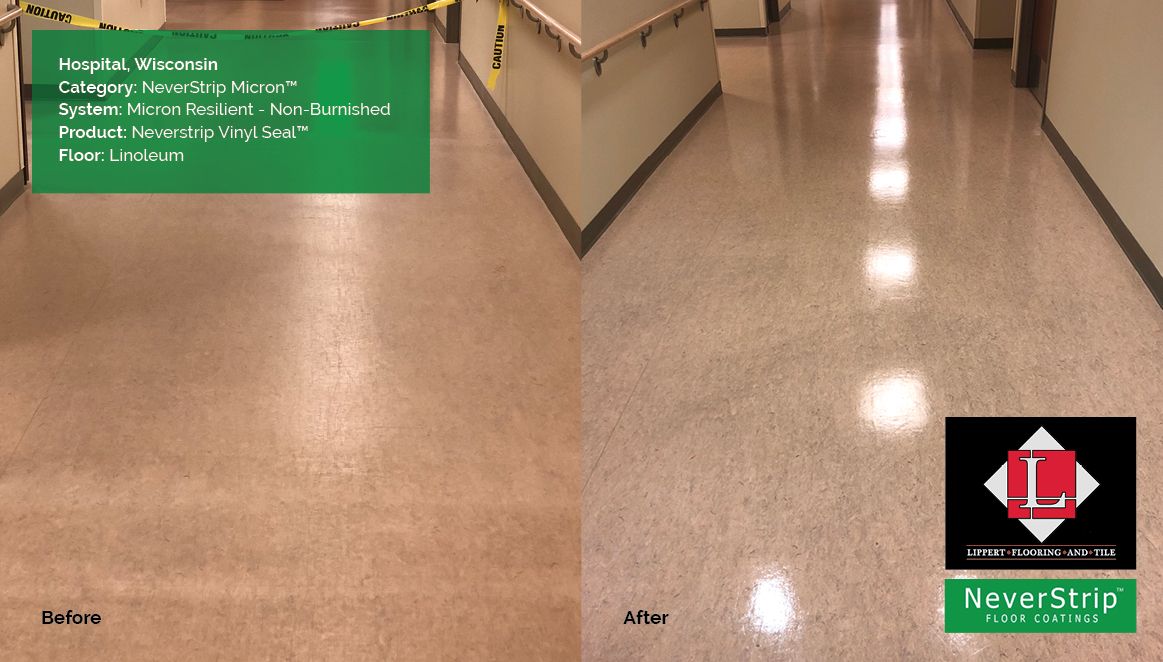 Linoleum Restoration with NeverStrip Vinyl Seal
Linoleum is a green, sustainable flooring choice. Demanding commercial traffic will scratch and dull any flooring. Linoleum is no exception.
NeverStrip Vinyl Seal
NeverStrip Vinyl Seal is a great choice for linoleum restoration. Vinyl Seal is part of the NeverStrip Micron Family of High Performance Floor Coatings. Vinyl Seal is for VCT, LVT and Linoleum.
Lippert Flooring and Tile
Lippert Flooring and Tile recently applied Vinyl Seal on a linoleum floor at a Wisconsin health care facility. The floor was 8-years old. The linoleum had lost its original sheen. Traffic patterns and scratching had degraded the wear layer.
The customer requested a new floor in the affected areas. As an alternative, Lippert offered a linoleum restoration using NeverStrip Vinyl Seal.
The Project
Elias Shanine, Lippert, says the linoleum restoration prep is slow. Lippert used double the number of 3M SPP pads required for other resilient floors such as LVT and VCT. Weighted Square Scrub oscillating floor machines were used instead of rotary machines. The floor was dry during the process. The SPP pads with these machines removed many of the surface scratches and embedded dirt. NeverStrip Enhanced Prep Pads (EPP) could have also been used.
Labor productivity for this prep step was 150 square feet per man hour. The Vinyl Seal application is easy and fast, according to Elias. The team applied two applications. Labor productivity applying the Vinyl Seal was 650 sq. feet per man hour.
Vinyl Seal coverage was 3,500 square feet per gallon per coat.
Benefits
Lippert's reasons for recommending linoleum restoration with Vinyl Seal versus replacement were:
* Less cost
* NeverStrip Vinyl Seal extends the floor's life, more sustainable
* This floor sealant restores the original sheen
* Stripping is not needed with this floor sealant
* Less frequent re-applications of Vinyl Seal versus traditional wax
* NeverStrip Vinyl Seal offers more natural appearance than wax
* This linoleum floor sealant offers an attractive traction even when wet
* Ease of refresh-ability with NeverStrip Micron Restore using an auto scrubber