Luxury Vinyl Floor Care Made Easy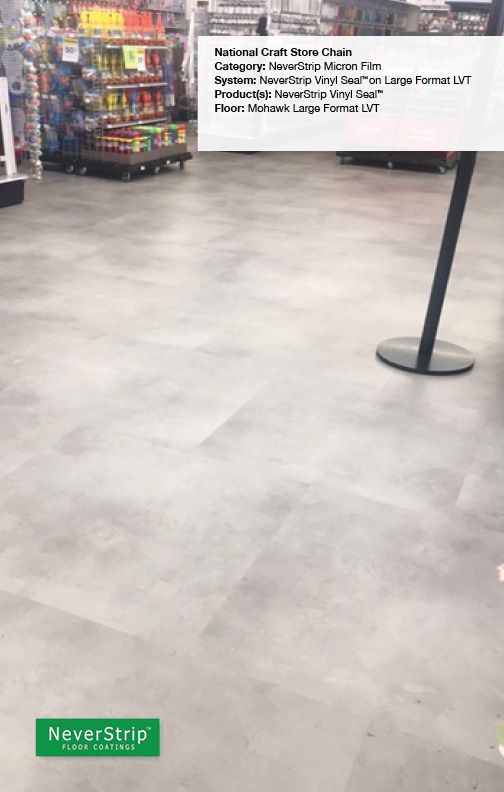 Luxury Vinyl Floor Care with NeverStrip Vinyl Seal onTandus-Centiva LVT Applied byTexan Floor Services
Luxury Vinyl Floor Care has been made easier at Victoria College with the use of NeverStrip Vinyl Seal applied by Texan Floor Service.
Victoria College installed 36,000 sq. feet of Tandus-Centiva LVT 32 months ago at its Emerging Technology Complex in Victoria, Texas. Texan Floor Services immediately applied three coats of NeverStrip Vinyl Seal, a top-rated LVT sealant, to the entire 36,000 sq. feet.
Victoria College is a public community college not far from Houston, Texas. Jesse Castro and his Texan Floor team applied Vinyl Seal during the Summer of 2015. The Victoria College maintenance staff has been cleaning and maintaining the floor ever since the floor sealant application. The maintenance process has been: 1) mopping the floor with water and NeverStrip Micron Clean™ (one ounce to a gallon of water), as needed for spot cleaning followed by 2) periodic (about once every 30 days) auto scrubbing with NeverStrip Micron Restore™, water and red pad. Micron Restore is a cleaner and restorer product in one. Micron Restore is mixed 4 to 12 ounces to a gallon of water.
Victoria College has now gone 32 months without even "one" single new application of Vinyl Seal. And, of course, no stripping has been done. The auto scrubber with a red pad not only cleans the floor but maintains an attractive sheen. Vinyl Seal is luxury vinyl floor care made easy! If you are looking to extend the life of LVT floors, check out our flooring sealant today!
Victoria College is pleased with the Tandus-Centiva LVT floor maintained with Vinyl Seal. The LVT looks great with Vinyl Seal protecting the LVT from scratches, scuffs and overall damage. Vinyl Seal is luxury vinyl floor care made easy. Vinyl Seal is maintained with standard cleaning procedures. LVT, if it is scratched or scuffed, is not as easily refreshed as Vinyl Seal. The floor sealant looks great every day without the Yo-Yo appearance of an alternative maintenance product such as wax. The school's floor care staff have been maintaining the floor without outside contractors thanks to our LVT sealant, thereby saving the school money. Dr. Larry Garrett, Physical Plant Director for Victoria College, said, "This is a very busy facility, and we knew we couldn't afford the down time for scrubbing, stripping, and waxing. With the NeverStrip products, a small crew is able to keep this large facility looking great all the time."
Where was Vinyl Seal Applied?
Vinyl Seal was applied to all the LVT in the lobby, hallways, and classrooms. The buildings are used for all sorts of typical educational activities and conferences, meetings and public events. Jesse Castro said, "all areas are subjected to a high volume of traffic. Vinyl Seal is a luxury vinyl floor care made easy." If you are looking to protect LVT floors from stains, learn more about our flooring sealant today!
Why was Vinyl Seal Applied?
Tandus-Centiva recommended Vinyl Seal to Victoria College and Texan Floor Services. Jesse Castro, Texan Floor Services' Maintenance Director said, "Vinyl Seal is more durable than wax and is easier/less costly to maintain. The proof is Vinyl Seal has gone 32 months at Victoria College with only sweeping, mopping and auto scrubbing. The floors have not required a new coat or stripping. The floors have retained an attractive sheen thanks to this resilient floor sealant without burnishing with the original three applications applied during mid 2015. Vinyl Seal has kept the abuse from a busy facility away from the LVT."
Jesse went on to say, "LVT manufacturers often state no topical treatment is required on their floors. Texan Floors' experience tells us Vinyl Seal makes a lot of sense for LVT with or without a factory-applied UV coating. Vinyl Seal takes the abuse from commercial facilities and is easily refreshed without stripping and constantly applying more product. Scratches or damage to LVT or its UV top coat are not easily refreshed, but Vinyl Seal is easily refreshed, with just standard cleaning procedures, typically without even needing a new coat of flooring sealant. Based on Texan Floor's experience these last three years, Vinyl Seal is the best, lowest cost method of protecting and maintaining LVT and other types of resilient flooring on the market today. It is Luxury Vinyl Floor Care made Easy."
What are the Benefits of Vinyl Seal on LVT?
Protects the LVT from scratches and scuffs
More refreshable than LVT itself with or without factory-applied UV
Micron-thin film looks great without distorting the LVT
Often is easier to clean than bare LVT, especially textured/embossed LVT
Vinyl Seal has great traction or wet coefficient of traction
Less labor to maintain than alternatives like wax
No stripping and greatly reduced scrub and recoats compared to wax
How is Vinyl Seal Maintained?
Victoria College floor care crews spot mop daily using NeverStrip Micron Clean™ and water. Once a month the floors are cleaned with an auto scrubber using NeverStrip Micron Restore. Jesse Castro says, "the Victoria College floor maintenance team does an exceptional job keeping the Vinyl Seal on the Tandus-Centiva flooring looking great. The use of Vinyl Seal is truly Luxury Vinyl Floor Care made Easy," improving the flooring's longevity and protecting it from stains.
How has Victoria College Reduced Floor Care Costs?
Victoria College has reduced floor care costs by eliminating re-coats of wax and annual stripping of floor finish and by not requiring outside floor care contractors. Vinyl Seal has proven to be luxury vinyl floor care made easy.
What is NeverStrip Vinyl Seal?
Vinyl Seal is a member of NeverStrip Floor Coatings™ Family of Micron Floor Coatings. NeverStrip Tile Seal™; NeverStrip Stone, Terrazzo and Concrete Seal™ and NeverStrip Liquid Grip™ round out the Micron product category.
Vinyl Seal is for resilient flooring including VCT, LVT and linoleum.
Tile Seal™ is for porcelain, ceramic, quarry tile and brick.
Stone, Terrazzo and Concrete Seal™ is for these three surfaces.
Liquid Grip™ is applied to any surface when higher levels of traction with an "aggregate feel" are desired.
NeverStrip Micron floor coatings are not made from petroleum. These flooring sealants are not acrylic floor finish. They are silicon based with Nano technology. NeverStrip Micron products do not require stripping during their normal life cycle and typically require 75% less scrub and re-coats and burnishing than conventional floor finish. These resilient floor sealants allow for easy and low cost Luxury Vinyl Floor Care. NeverStrip refers to these flooring products as Micron because they are applied Micron-Thin onto the floor. NeverStrip Vinyl typically is applied at 4,000 sq. feet per gallon per coat. Vinyl Seal allows for Luxury Vinyl Floor Care made easy.